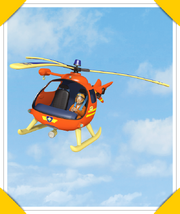 Wallaby 1 is the former Pontypandy's Mountain Rescue helicopter from Series 5-10 and was piloted by Tom Thomas. 
Description
It first appeared in Series 5 along with Tom and his Mountain Rescue 4x4. It was used for patrolling the Pontypandy mountain range and used in a variety of rescues if Tom was required.
Trivia
It's based on a Robinson R22.
In Series 5, it had a large tank which could store water, a double harness and (in Let it Snow) Dilys' groceries.
In Series 11, Mandy Flood gave her model of Wallaby 1 to the young prince during his royal visit to Pontypandy with his parents.
In the exterior shot of Wallaby 1 in Series 5 just before it takes off, the blue beacon on top of the rotors does not flash. It should be noted that most if not all search and rescue helicopters in real life do not have any sort of emergency lighting as it is not necessary.
Wallaby 1's control panel (seen in every shot of Tom flipping the switches on it) from Series 5 was later sold online on The Prop Gallery.
Gallery