The Bus
is owned by
Trevor Evans
who drives it.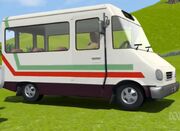 Description
Serving the route between Pontypandy and Newtown, Trevor Evan's bus is a local lifeline. Operating the school run and day trips for the village children is one of its vital jobs. Although not always a reliable timekeeper, Trevor and his bus are popular elements of village life. There is a ramp kept on the bus for wheelchair access and there used to be a Sat nav.
Basis
The bus was based on the Ford Transit Dormobile in the original series.
In the CGI series, the bus was based on the 2001 Ford Transit bus.
Trivia
Like Jupiter and Venus in the old series, the bus originally had a numberplate (reg: BWS 493T). However since Series 5, its registration plates have been removed.
In Heroes of the Storm, Trevor's bus fell off a cliff, but by the end he gets a new one (still the same bodywork) which includes a completely redesigned dashboard, different wheel rims and pink seats. The same happens again in Set For Action!, but his new bus is exactly the same.
Gallery