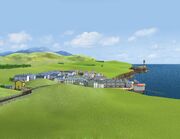 Pontypandy is the Welsh village where the Fireman Sam television series is set. Newtown is the neighbouring town.
Notable locations
Emergency services
Trivia
From Season 6 onward, Pontypandy is now a seaside fishing village instead of a village set deep in the hills as in the early series.
Pontypandy's name is based on Pontypridd and Tonypandy in South Wales.
Gallery