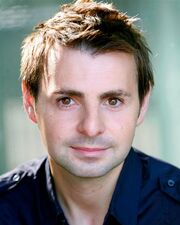 John Hasler (born April 24th, 1974) is a British voice artist and theatre performer who voices for the UK (English) CGI episodes of Fireman Sam. He also does the voice of Gargoyle in "Mike the Knight", Toot in "Toot the Tiny Tugboat", Thomas in the UK/AUS dub and several other characters in other dubs of "Thomas & Friends" and presents the links between programmes on CiTV.
Characters
Trivia
He is best remembered for playing T-Shirt in "T-Bag", written by Lee Pressman.
He, Kerry Shale and Steven Kynman voice characters in "Thomas & Friends".
He took over the role of James from Steven Kynman because there was little difference between Kynman's James and Norman voices. It is also thought that it was because James sounded too old compared to Sarah.
He and Juha Varis voiced Thomas from "Thomas & Friends" in their respective languages.
Both he, Steven Kynman, and Harriet Kershaw voice characters in the UK dub of "Yoohoo to the Rescue".
Gallery