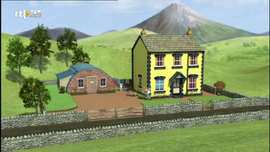 The Flood's Family's House is a little cottage situated on the Coast Road. This is the home of Mike, Helen and Mandy Flood.
Until the fifth season it was Penny's House.
Garden
In Deep Trouble, Sam was weeding the garden until a little earthquake occur and Sam sunk into the soil of the garden until the fire brigade rescued him. A month later, the garden was restored again looking as good as new.
In Garden Force Mandy decides to give her mum's garden a makeover with the help of The Twins, Norman, Joe and her dad.
Trivia
The cottage from the original series use to be used for Joshua Jones which was a show made by the same producers.
Gallery