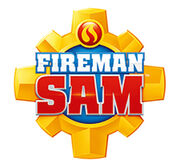 Fireman Sam, (Welsh: Sam Tân) is a British animated children's television series about a fireman named Sam Jones, his fellow firefighters, and other residents in the fictional Welsh rural village of Pontypandy (a portmanteauof two real towns, Pontypridd and Tonypandy). The original idea for the show came from two ex-firemen Dave Gingell and David Jones from London, England, who took their idea to artist and writer Rob Lee who developed the concept, and the show was commissioned.
The series original run was from 15th September 1987 - 20th June 1994 in Wales, on the children's block of Bumper Films and S4C, and from 17th November 1987 to 16th November 1994 in the rest of United Kingdom, broadcasting on BBC1. The idea for the series was coined by two former ex-firemen from Kent, Dave Gingell and David Jones. It was written by Rob Lee.
Fireman Sam has also been dubbed in Scottish Gaelic. Fireman Sam has been aired in over 40 countries around the world and has been dubbed(translated) more than 30 languages including Mandarin Chinese.
The original show was finished in 1994, but the series did not stop yet. The whole original Fireman Sam series finished in 1996 that features Fireman Sam In Action and some of the merchandise like books.
Development
The original idea came about from two ex-firemen from London, England – Dave Gingell and David Jones after purchasing the stop motion animation drawn by artist Anthony Miller and Will Vinton. They approached Mike Young, creator of SuperTed, in Barry, Wales, and asked them to further develop their concept. The idea was then brought to S4C's Director of Animation, Chris Grace, who had previously commissioned SuperTed, saw potential in the idea and commissioned the series in 1985. The characters and storylines were created by Rob Lee, an illustrator from Cardiff, who would write books about Fireman Sam (such as stories and an annual), before it aired on TV, and the programme was made using stop motion. It could take up to four days to produce one minute of this form of puppet animation. Fireman Sam has to this day been translated into over 25 different languages including Mandarin.
In the original series, all the character voices were performed by John Alderton. The later series used several actors' voices.
History
The original series (Series 1 - Series 4) comprised 32 ten minute episodes and a 20 minute Christmas special. The narration and all the character voices were done by John Alderton. Fireman Sam is the main character of the show, and interacts with both colleagues at the Fire Station and fellow villagers. He is seen as somewhat of a hero in the village. Despite being so small, and with so little activity, the village sees its fair share of fires, which Sam and his team can easily handle. The vehicles at the fire station include a four-wheeled Bedford TK fire engine called Jupiter, a six-wheeled 1982 Range Rover Rescue Tender named Venus, and Trevor's Bus, a 1985 Ford Transit Dormobile. Fireman Sam's colleagues are Elvis Cridlington, Station Officer Basil Steele (renamed Norris Steele in the new CGI series) and later Penny Morris (who hailed from Newtown with Venus). The villagers are bus driver/auxiliary firefighter Trevor Evans, Bella's Café owner Bella Lasagne, troublemaker Norman Price, Norman's mother Dilys Price, and the twins Sarah and James Jones. The objects include M.O.P., Bentley the Robot, and Mechanical Master Chef.
The original series aired on BBC One, CBBC and CBeebies since it was launched in 1987, most commonly airing on CBeebies on a daily basis with repeats showing until 28 December 2007. In the original series produced by Bumper Films from 1987 to 1994, the firefighters had yellow and black uniforms, whereas in Series 5 produced by Siriol Productions and Gullane Entertainment (Later HIT Entertainment) and Series 6 produced by HIT Entertainment (Later Mattel Creations, then Mattel Television), Xing-Xing, WildBrain and DHX Media, the firefighters now have yellow and blue uniforms.
In 1988, the original series was nominated for a BAFTA Award for Best Short Animated Film. The potential recipients were Ian Frampton and John Walker.
In 2003, a new Fireman Sam series was produced by Siriol Productions for HIT Entertainment, comprising twenty-six episodes, each ten minutes in length. These episodes used more modern techniques of stop motion claymation including mouths that move with the dialogue. Series 5 featured all the original characters, but also introduced some new faces, such as Tom Thomas, the Australian pilot of the rescue helicopter Wallaby 1 and the Mountain Rescue 4x4 Jeep, an unnamed photographer/news reporter, and the Flood family; consisting of Mike the Plumber, his wife Helen the Nurse, and their daughter Mandy. Though still loosely based on a Bedford TK, the updated Jupiter has six wheels, with a slightly revised livery and appearance. Venus also received an update, with its design sporting a more generic modern appearance, though not based on any real-life model in particular. The characters in this series were voiced by John Sparkes, Joanna Ruiz and Sarah Hadland. The series also premiered on CBeebies on 4 April 2005 and repeats were shown until 2007. CBeebies last aired Fireman Sam on 28 December 2007, before Cartoonito started airing Series 5 in early 2008 (which was followed by games on the Cartoonito website) and Channel 5 started airing Series 6 in 2012.
CGI series (Series 6 – present)
The series was revamped in 2008 which saw the show convert to CGI. Pontypandy is now a seaside fishing village instead of a village set deep in the hills, though most of the locations have retained their appearances. Another change in this series is that the twins' parents appear for the first time; their new-age mother Bronwyn, and fisherman father Charlie, Sam's brother, who runs a café/fish-and-chip shop called the Wholefish Cafe. The series was produced by Xing-Xing from Series 6 - Series 10 and DHX Media (Later WildBrain)/IoM Media Ventures Halifax for HIT Entertainment (Later Mattel Creations, then Mattel Television) from Series 11 – present
Jupiter was updated again, now with a front end taken from a Volvo FL6. A yellow stripe was added to the front of the fire engine. Minor changes were made to Venus which included a water nozzle added to the top of its roof. Trevor's Bus was updated to a more modern look with angled headlights. New vehicles introduced included Mike's Van in Series 6, as well as Mercury (fire quad bike), Saturn (infrared drone), Pontypandy Flyer (Steam Locomotive) and Bessie (Steeles first fire engine) which were introduced from Series 8 onwards.
The outfits were updated throughout the series (except for Norman Price). This included an update to the firefighter's outfits which added reflective stripes and extra badges to their tunics. Dilys Price received a large makeover which saw her getting makeup, glasses, black hair, a necklace and an updated outfit. The rest of the characters also received minor updates to their clothing.
Many characters also had aspects of their personalities made more apparent. Norman Price is far more mischievous and inconsiderate than in Series 5 where his pranks were often planned out and his accidents were due to badly planned ideas instead of outrageous schemes. For example, the Series 7 episode Pontypandy Extreme, Norman gets trapped down a wishing well after attempting to climb down in order to retrieve the coins from the bottom. Other examples are Station Officer Steele's strictness and maturity and Elvis's decrease in general competence (Series 9's Treehouse Trouble and Magic Norman). For example, in one episode where a first aid training exercise is taking place, Elvis is told off by Steele for dancing with the dummy that is being used. At the same time, Steele is not afraid to unleash the child within him, showing an interest in kite flying and paper planes; as seen in Series 6's Paper Plane Down. He also occasionally causes emergencies himself and often gasps when an emergency comes in. Also, Station Officer Steele's name has changed to Station Officer Norris Steele.
Other changes include the removal of Bella, although her café can still be seen opposite Dilys' shop, now a 7-Eleven-esque convenience store called the "Cut Price Supermarket". It seems the Whole Fish Café, Bronwyn and Charlie have replaced them. Bella Lasagne made her first appearance in CGI in Series 10 episode Pizza Pandemonium, where the reason behind her absence was revealed as her moving to Newtown. Penny also now has another string to her bow, as she is a trained ocean rescuer and the helmsman of Neptune (the village's lifeboat). Also, Rosa and Dusty have been replaced by Lion, Nipper and Radar.
Since Series 8, additional characters were introduced: Chief Fire Officer Boyce, one animal called Norris the Guinea Pig, five new villagers named Derek Price (originally introduced in Series 6 as a minor character but then recurring since The Great Fire of Pontypandy), Moose Roberts, Gareth Griffiths, Lily Chen and Mrs. Chen.
In Series 9, other characters were introduced: a coastguard named Ben Hooper, a mechanic and inventor named Joe Sparkes with his vet wife Lizzie Sparkes and their daughter Hannah Sparkes. In addition, new vehicles were introduced: a jet ski named Juno and a fire boat named Titan. Also, in the movie Heroes of the Storm there are Ellie Phillips and Arnold McKinley, new firefighter members. There are Hydrus (previously Catfish or Wildcat) the six-wheeled vehicle boat and an unnamed Mobile Command Unit. From Series 10 onwards, Bella Lasagne makes her CGI debut. The fire station has a new vehicle; Phoenix the animal rescue 4X4. In addition, Wallaby 1's replacement is a search and rescue helicopter Wallaby 2.
The characters in this series are voiced by Steven Kynman, Andrew Hodwitz, Jonah Ain, Maraget Brock, Tegwen Tucker, Lily Cassano, Dave Pender, Jacob James, Scott Lancastle, Ashley Magwood, David Carling, Mike Pongrazc, Becky Shrimpton, Sarah Lynn Strange, Carter Treneer, Nigel Whitmey and Su Douglas. Joe Marth, Alex Lowe, Ifan Huw Dafydd and Jo Wyatt join the cast in Series 9. Dave McRae, Harriet Kershaw, Adam Turgeon and Christa Clahane join the cast in Series 10.
Series
Specials
VHS Release
Gallery